ARTICLES AND TIPS



Digital Cable vs. Satellite TV
by Jim Teler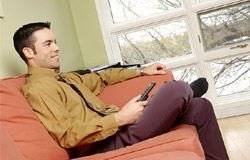 Do you want to get more channels while saving money but not sure if you should go with digital cable or satellite TV? Then this article is meant directly for you! The commercials seen on TV and the ad's displayed all over the internet can be overwhelming at best. Below we will hope to help make your choice simplified for you!



Cost Difference between Digital Cable VS Satellite TV:

Most cable companies include local franchise fees along with local broadcasting fees on your monthly bill. Digital cable varies starting at $30-$40 per month and up depending on the package you choose it can go up as high as $90 per month.

While Satellite packages usually offer betters deals based on how much money is spent per channel. Some satellite companies offer a price point between of $25 for over fifty channels. With most satellite companies pricing may be a little higher per month unless committing to twelve months of programming up front. A twelve month satellite commitment will usually ensure lower cost up front and most even free installation of the satellite dish.

Programming differences between Digital Cable VS Satellite TV:

Most Satellite TV systems can support over 250 channels of programming. All channels are of digital quality. One downside is satellite offers less local channels and may not have local channels in some areas. Most satellite companies also offer HD TV services that are compatible to your satellite TV service.

Digital cable on the other hand can support over 300 channels of programming of digital quality. Digital Cable has more local channels available in most major cities. Most cable companies now offer Video on Demand (a library of movies and TV shows that you can order at your leisure). HDTV services are becoming more popular amongst cable companies now and not just thru satellite TV as in the past.

Difference of Equipment:

Satellite equipment typically includes a satellite dish that is installed outside the home that is visible to everyone. A satellite receiver is also essential per TV. Most satellite receivers today also come with a PVR (Personal Video Recorder) which the cable company has not yet been able to offer as of now. Most satellite companies run specials on free installation and equipment when you agree to a 12 month contract.

Digital cable also requires one receiver per TV but that is all the equipment needed. Should you disconnect your service the receivers will be turned into the cable company where as with Satellite TV you own the dish.

In closing:

In the end the prices are comparable but it depends on which system will best suit your television needs and what you are more comfortable with. Both Digital TV and Satellite TV both have their disadvantages and advantages, you make the call!

About the Author
Jim Teler is a avid budgeter who strongly believes that satellite TV is a savings over cable for most households in America. In addition to raising his two children with his wife, Jim also does freelance writing for websites, including those who sell Dish Network systems like www.bestsatellitetvsystem.com.